BEST OF THE WEEK
Vox's big school segregation piece is a strong follow-up to its January look at white self-segregation (and is written by the same journalist, Alvin Chang).
The most important graphic in School segregation didn't go away is probably the one that shows the dramatic increase in high-poverty schools over the past 17 years – roughly 70 percent. Another eye-catching graphic shows that white flight in response to mandatory desegregation orders in northern school districts was much higher than predicted.
There are also some great quotes, including Erika Wilson ("People who are fortunate enough to form utopias do so on the backs of other folks who have been excluded.") And the 8-bit Minecraft-style illustrations, which Chung apparently calls "cartoonxplainers," are surprisingly fun and helpful:
Some readers might object to the story's focus on the issue of district secessions, which are a tiny part of school segregation over all. Housing laws, funding patterns, attendance zones, and self-segregation are much bigger factors. But EdBuild's Rebecca Sibilia points out that successful district secession attempts "affect 350,000 students, and create a poverty divide as big as 26 percent in places like Shelby County and Germantown."
Looking ahead, Josh Starr tells us that new PDK poll results coming out soon will have data on public attitudes towards integration.
Speaking of race and schools, US News and The 74 were among those who covered the pushback against union head Randi Weingarten's claims that vouchers were close cousins to segregation. Indeed, things were getting pretty heated. But EWA board member Dakarai Aarons shut it all down with his tweet noting that "Our public and private school systems were both born in segregation and racism. This debate is silly. Let's focus on making schools better."
ALSO:
Tech magazine Recode notes that Priscilla Chan's CZI is likely to become one of the largest and most ambitious philanthropies in the world. However, Mike Rosenberg notes that some kids at Zuckerberg's school for low-income Silicon Valley families are leaving because their parents are priced out of the housing market. Not much CZI can do about that – or is there?
There are so many education implications in this New York Times story about child safety agencies discriminating against poor minority parents: How are children's academics affected by being removed from their parents' homes and sent to foster care? What role do schools play in supporting or protecting against unnecessary removals?) Plus it's great reporting and writing.
HONORABLE MENTIONS
Dallas Morning News: When the worst elementary school in Dallas closes, what happens to the kids? https://t.co/b12kLvdGVi
Seattle Times: Homeless students drawn to Seattle schools by sports are often cast aside when the season's over https://t.co/TvFyoEn1jJ
Chalkbeat: New federal rules are pushing Indiana to explore giving state tests in Spanish https://t.co/oyizcCrQ0B
Washington Post: Undocumented suspensions persisted in D.C. schools despite repeated alerts https://t.co/R3vuyn4Yt1
NYT: He Called the School Board Racist. Now, He's Joined It https://t.co/RwhwyAosRK
Hechinger: There are 2.4 million fewer college students than there were five years agohttps://t.co/xuUxLbueOb
Boston Globe: 50 years later, Metco's dream is still unanswered  https://t.co/CvbEED0KZz
Seattle Times: Only a quarter of Washington school-board races are contested https://t.co/c6nc0mwp6w
NYT: How Home Visits by Nurses Help Mothers and Children, Especially Boys https://t.co/JxllbozqaS
FROM "THE GRADE"
This week's column was the much-anticipated Worst Education Journalism of the Year roundup, featuring categories such as Worst Story, Worst Coverage, and Worst Journalist for 2016-2017. Among those in contention are the NYT, ProPublica, Philadelphia Inquirer, LA Times, and USA Today. The nominees for worst journalist include Valerie Strauss, Campbell Brown, Kate Zernike, and me.
Reactions to the piece – a counterpart to December's "Best Education Journalism of the Year" roundup – were all over the place:
Jenn Borgioli Binis called it "unsurprisingly thoughtful." Akil Bello called it the "#hateread awards!" NY Daily News reporter Ben Chapman noted that he was "grateful to not be nominated."
Folks who don't like Valerie Strauss's blog spent a lot of time complaining about Valerie Strauss's blog. (She's nominated for Worst Journalist, along with Kate Zernike, Campbell Brown, and me.)
Politico NY's Eliza Shapiro asked, "What is the point of this?" Hechinger Report honcho Liz Willen lamented having "wasted my time" reading it.
Last week's column, focused on coverage of the LA school board race this spring, got some positive attention on Twitter. LA Observed mentioned it in its media roundup. Parent activist Karen Wolfe called it a "super insightful take" on what was left out of the coverage.
Reporter Dan McGowan said that the call for political reporters to be more involved was fine but that it was "really important to understand BOTH politics and education."
Both Politico and KPCC LA have asked for (and are getting) changes to the story to better reflect their efforts.
DEVOS FEATURES
Meanwhile, The Guardian's profile of Betsy DeVos (see image below) got a lot of criticism from education journalists for its focus on DeVos's appearance. Politico's Caitlin Emma noted that the opening of the piece was unnecessarily "devoted to comparing the looks of Betsy DeVos and Ivanka Trump."
The HuffPost's Rebecca Klein tweeted "If you're going to criticize DeVos, just do it. Don't critique her for not *looking* the part." The LA Times' Joy Resmovits noted that "there are plenty of things you can say about Betsy DeVos without dinging her appearance." Politico colleague Michael Stratford quipped, "I missed all the coverage of what Arne Duncan & John King wore when they read to kids."
No response yet from the Guardian's DC bureau chief, David Smith, who penned the piece.
Another profile of DeVos, published in New York magazine (see image below), didn't generate the same kind of pushback. Penned by Lisa Miller, the NY magazine piece was in some ways more critical. But it didn't focus on DeVos's appearance, unless you count the unflattering schoolkid images that accompanied the piece: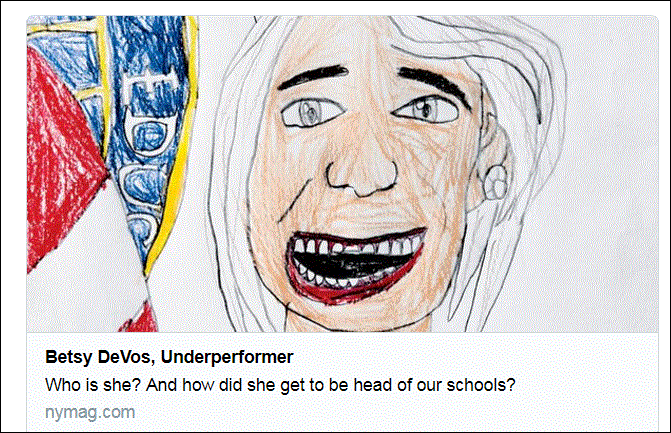 There were a couple of questions about the piece, though, including mine about the dearth of named USDE sources in the piece (there's just one) and NPR education reporter Anya Kamenetz's question about whether the 80 percent of students attending public schools cited in the piece was accurate (that figure apparently excludes charter schools, which are public).
Kamenetz also chimed in on the criticism of the sexism in the Guardian story, noting "I remember asking whether sexism was a factor in her unpopularity [back in February] and everybody got SO MAD." Indeed, they did.
"I remember asking whether sexism was a factor in her unpopularity [back in February] and everybody got SO MAD."
ALSO:
Media outlets tend to report scary things that end up not being as big or important as they might seem, notes Data Is Beautiful http://ow.ly/lTyq30dY3Ne 
"Trust a source who says something happened; distrust a source who says something *might* happen." – FiveThirtyEight's piece on unnamed sources.
PEOPLE, PLACES, & THINGS
*Frontline's September 2016 segment "The Education of Omarina" (above) has been nominated for an Emmy. Congrats to all, including Mary Robertson.
*Congrats to BuzzFeed's Molly Hensley-Clancy and CQ's Emily Wilkins on being named National Press Foundation fellows.
*Congrats to Chicago Public Schools teacher and education blogger Ray "White Rhino" Salazar, who's slated to publish a  novel.
*The Emerson Collective, headed by Laurene Powell Jobs, known for the XQ Prize for reinventing high school and its support for nonprofit media outlets and a handful of writers, has now bought a big chunk of the Atlantic magazine. How's that gonna work? I have no idea.
*The Student Press Law Center has rolled out a new online reference resource to help enforce open-records laws.
*Former Spencer Fellow Claudia Wallis is joining the Hechinger Report as a columnist. Her first piece is here: http://bit.ly/2tJfK2i
*Chattanooga Times Free Press education reporter Kendi Rainwater is heading to graduate school. Who will replace her?
KICKERS
Everybody: Oklahoma teacher panhandles to raise money for school supplies https://t.co/UsGD5EVs8U
LA Daily News: Fired LAUSD teacher [Rafe Esquith] can sue district for alleged discrimination, court says
__
Here's the archive of past newsletters, plus a handy-dandy signup form if you're not already following or are sick of passing it on to colleagues.