BEST OF THE WEEK
The best education story of the week is Alvin Chang's deep dive for Vox into the demographic effects of school attendance zones, which are an important factor contributing to racial segregation in schools along with residential segregation, district boundary-setting, and individual methods (private schools, magnet programs, moving away, etc).
The latest piece has been getting a lot of well-deserved attention. (Nikole Hannah-Jones began a thread about the story with the comment, "This is such important work.") However, do note that the original version of the story claimed that American schools were as segregated now as they were 50 years ago, which is not precisely the case.
In a perfect world, someone would cobble together a map or calendar of big districts going through rezoning processes, so that more reporters can get in on the story. (Hint, hint.) Also: We need to get Chang to talk to a group of us about the issues he's covered, his innovative visual storytelling strategies, and his ideas for getting readers (and perhaps even journalists) to reflect on how their interpretations and decisions are affected by their own "mental maps."
You may recall Chang's previous efforts at explaining school segregation between districts, which The Grade named one of last year's best education stories. (His work has also been mentioned in previous columns about innovative ways to report and share education stories.) You can hear Chang talk about the issues here. Read about how he put the story together here.
2 K-12 EDUCATION REPORTERS LEFT AT BAY AREA'S 2 LARGEST OUTLETS
We all know that local education coverage is struggling, but the San Francisco Bay Area, a region of nearly 8 million people, may be the most dramatic example. As described in this week's column (by longtime education writer Joanne Jacobs), there are now just 
two full-time K-12 reporters between the two major dailies
: Jill Tucker for the SF Chronicle and Sharon Noguchi for the Bay Area News Group.
Of course, there are other, smaller local outlets with education reporters. And other state-focused outlets are doing their best to help pick up the slack, along with local blogs. But it's still not nearly enough to keep districts honest and help parents stay informed, much less explore new ideas and trends that take root in the region.
Gizmodo Media Group CEO Raju Narisetti cited the Bay Area situation as an example "why the financial troubles of local American journalism are so problematic." Chalkbeat is thinking about opening a bureau there.
PEOPLE 
 Jessica Bakeman, who left Politico FL over the summer, is now at WLRN Miami. Check out her story on the rise and fade of the opt-out movement.
 How fun to see Chalkbeat co-founder Elizabeth Green discussing her writing about education and growing Chalkbeat into the nonprofit behemoth it is today.
 Very cool that Longreads asked The Oregonian's Bethany Barnes to recommend a piece for best local reporting of 2017.
 Good news from California's KQED public television station, where Ana Tintocalis has been replaced by Vanessa Rancaño, an alum of The California Report and a former NPR Kroc Fellow.
 Don't forget to sign up for EWA's February Character and Citizenship event in New Orleans, or to apply for a Knight-Wallace Fellowship.
CHALKBEAT STUMBLES (AGAIN) ON NATIONAL COVERAGE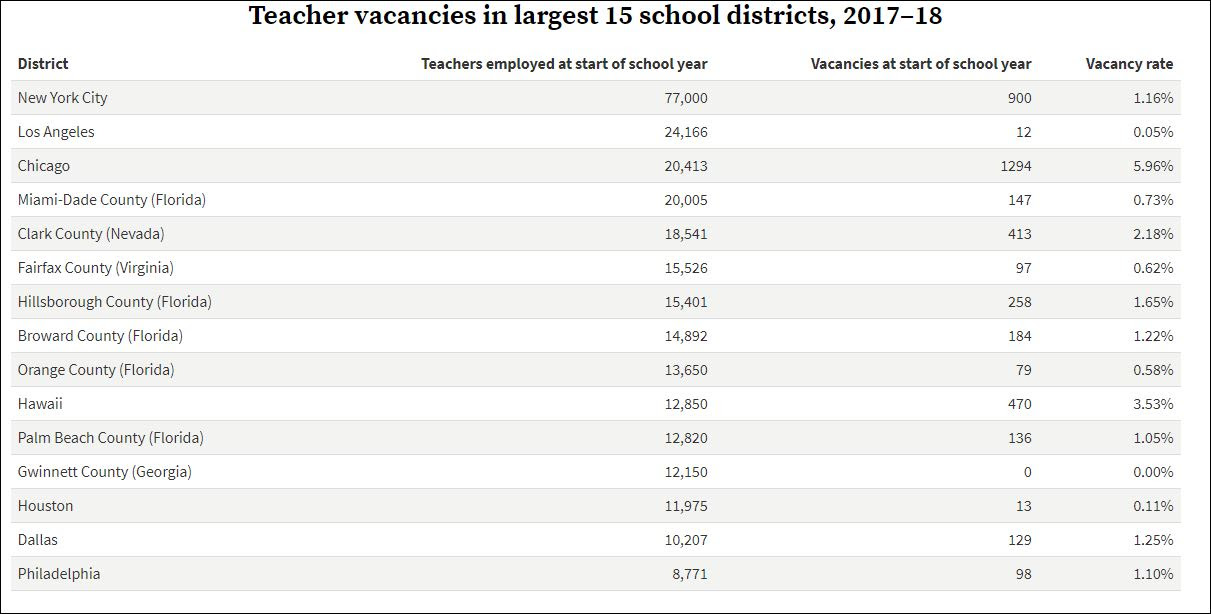 I'm not sure what's going on over there, but this week's Chalkbeat story about teacher shortages was another instance in which great reporting got undercut by breathless writing. Reporter Matt Barnum did admirable working getting teacher vacancy numbers from a bunch of big-city districts, showing that most of them had rates of about 1 percent. But the original version of the story attempts to hype things. The headline — "
In many large school districts, hundreds of teaching positions were unfilled as school year began
" — is the most obvious example.
For some reason, the newsletter writeup of the story, focused on the percentages rather than the raw numbers, is much more reasonable, which I really appreciated. Still, I wish that Chalkbeat, which is known for careful work in its bureau reporting, would be a little bit more careful with its national stories. Asked about these concerns, Chalkbeat national editor Sarah Darville responded, "Matt is among the most careful journalists I've worked with, and we're proud of the story."
MEDIA TIDBITS
 Headlines like "
Charter school's first graduating class on track for 100 percent college acceptance rate
" have become something of a warning sign in education news. This example is from the Las Vegas Sun.
 New York City teacher blogger José Luis Vilson makes a good point when he calls out reporters for contacting educators and experts to "pick your brain" and then making an article out of it without crediting them. "I think too many journalists believe that, just because they're not paying their subjects for promoting them, they can also wholesale create an article in their name but with our ideas." Give credit, or share part of your paycheck.
 Thanks to The 74's Kevin Mahnken for exploring why the Stanford/Reardon data showing dramatic differences in district impacts haven't been more widely picked up and turned into stories so far — and for mentioning The Grade.
 Journalists and school districts are working together in Michigan to keep parents and community members informed through something called the School News Network. The effort is described as "professional journalists who once covered districts for the mid-sized metro paper that dropped local reporting." Thoughts?
 Kudos to the Marshall Project for its newsroom diversity efforts, and crossed fingers that there will be similar progress to talk about when The Grade does its 3rd annual newsroom diversity update later this year. In previous years, it seemed that nonprofit education outlets were struggling particularly with diversity.
 Teacher blogger Larry Ferlazzo critiqued the most recent PBS NewsHour/EdWeek segment, which focused on a program called Teachers Pay Teachers, for failing to address free resources teachers can share or highlighting the low pay that forces teachers to try and make money selling lesson plans to each other.
THE KICKER
Think you've made a big mistake? The Chicago Sun-Times has apologized for having printed an obituary of Chicago teachers union head Karen Lewis, who is still alive.That's all, folks. Have a great weekend. Send any comments and suggestions to thegrade2015@gmail.com.

You can read all the back issues of The Grade's newsletter, Best of the Week, here. Don't forget to sign up while you're there!