All the best education news & analysis in one place!
BEST OF THE WEEK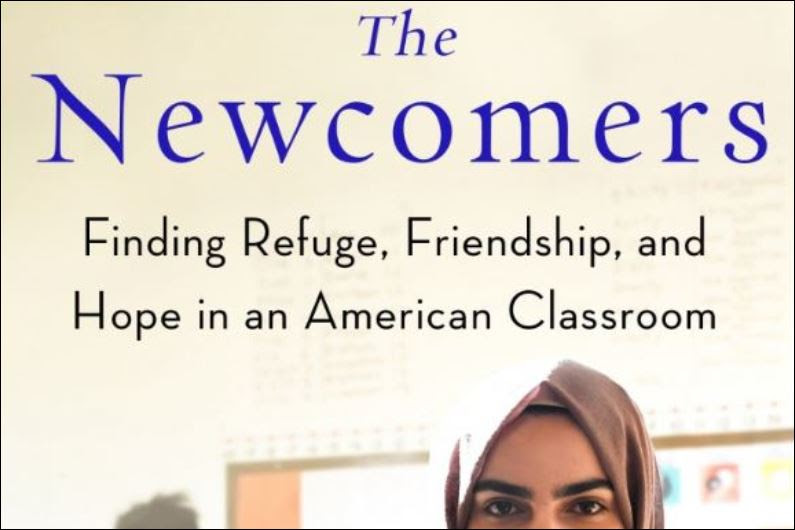 The best story of the week is Helen Thorpe's new book The Newcomers, about refugee teens attending a Denver high school.
Larry Ferlazzo's EdWeek interview with Thorpe is here. USA Today loved the book, as did Malcolm Gladwell and the Denver Post. There's an excerpt at Longreads, and another one at Chalkbeat.
Asked her thoughts on mainstream media coverage of refugee kids, Thorpe observed that, generally speaking, the press don't get it. "The knee-jerk response is to look down on refugees as objects of pity," she wrote on Twitter. Reporters "miss the strength, resilience" of refugee students.
For more views and reflections on how the media covers refugee students, check out two related columns from The Grade: Immigrant/Refugee Students Getting Much-Needed Attention (2015) and Media Coverage of Recent Arrivals In American Schools (2016).
BEAT REPORTERS DOING INVESTIGATIVE WORK
This week's column focuses on the super-sized education team at WBEZ Chicago Public Radio, where the station is betting big that a strong team of experienced education reporters can focus on enterprise stories and still keep its audience informed about breaking news. [NB: One of the foursome, Becky Vevea, has moved on to another beat.]
Few newsrooms these days devote this much attention to any single team of beat reporters. And there are some potential dangers for beat reporters spending lots of time on features and investigations. But they haven't been a problem so far, according to editor Kate Grossman. "I feel like we keep our hand deep enough in daily work to keep our audience informed and to keep our reporters in the know," she says. "I actually think we do a good job of staying current on the daily stuff while not letting it consume us."
Now if they could only get their online archive fixed so education-focused newscast stories are posted on the website. And maybe take some steps to address the lack of diversity on the team. "WBEZ is deeply committed to diversity in its newsroom and in its coverage," says Grossman.
TIDBITS
CLASSROOM SUPPLY OVERKILL
 There's been perhaps too much coverage of the classroom supplies deduction for teachers in the media lately– especially since we're only talking about an average of $40-50 in actual savings. So I was glad to see other, broader attempts to discuss the legislation's potential impact (for example: the concerns of higher education institutions in outlets including Politico and Inside Higher Ed).
GIVING TUESDAY BLUES
 Kudos to Chalkbeat for being transparent about its failed attempt at raising $15,000 on Giving Tuesday, the wildly oversaturated day of donating that many of us find overwhelming. No word yet on whether the Hechinger Report succeeded or failed at its $33,000 ambitious goal, or whether they'll say if they didn't. The outlet was unable to comment by the time this newsletter was set to publish.
DON'T MAKE ME SCHOOL YOU
 Can we just hold off for a month on using headlines with Person A "schools" Person B for a month? It's getting pretty tired.
DEVOS SCHOOL VISIT PROTEST COVERAGE
 While we're at it, how about a moratorium on the DeVos school visit protest stories, too. I cringed at all the fawning Duncan-era school visit coverage early in the Obama era, and now I'm also sort of done with teachers protesting DeVos appearance stories. What's the news there, really? It seems lazy, and sort of boring, even though DeVos has added a cat-and-mouse aspect by refusing to give reporters notice ahead of time. And it seems like it's basically being done to feed the outrage machine, a problematic approach to doing news.
PREP FOR YOUR PULITZER AWARD BY APPLYING FOR AN EWA PRIZE
 Every year, a handful of reporters and outlets forget to apply for one of EWA's 17 'best-in-the-business' awards and then go out and win a Pulitzer or something. How can you win one without the other? It's just not right. Don't let it happen to you. The deadline is December 15th.
HITS & MISSES IN BALLOU HIGH SCHOOL COVERAGE
For many folks out there, WAMU/NPR's What Really Happened At The School Where 'Every Senior Got Into College' was quite understandably the get-outraged/feel-good-about-journalism story of the week.
WAMU reporter Kate McGee spent months digging into what had happened at the DC high school last year and found out that many chronically absent seniors shouldn't have graduated and that teachers and students knew what was going on. You can read the latest here.
However, the standout journalism by McGee is being undercut by a seeming reluctance on the part of folks in charge at WAMU and NPR to fully acknowledge, update, and correct McGee's previous reporting on the school's success.
The new story about Ballou includes a line noting the existence of previous coverage from NPR "celebrating [Ballou's] achievement" and linking to the previous story. That previous story, titled Every Senior At This Struggling High School Was Accepted To College, now includes a note explaining that additional reporting has revealed a series of problems not addressed in the original piece.
But there are still uncorrected statements in the original piece (such as "it was a strong support system within D.C. Public Schools that made it a reality") that we now know not to be true. And the station's assertion that it isn't "aware of anything in the original story that is factual inaccurate" seems inadequate if you go back and read the original story knowing what we now know.
Single-year miracle school turnaround stories are a chronic problem in education journalism, as is a reluctance by some education journalists to focus some of the accountability they give to schools on their own work.
COMEDIC INTERLUDE 
The Opposition with Jordan Klepper: Thanks for Teaching Oklahoma's Kids, Big Oil
PEOPLE
 Spencer Fellowship alumna Sara Mosle and Nick Chiles are going to be teaching Covering Education, LynNell Hancock's spring education journalism course at Columbia, while Hancock is on sabbatical in Paris. Who will be on their all-star guest speaker list? I can't wait to find out.
 Did you know that @AdamHSays went from being ProPublica's social media editor to covering higher education news? "Oh no, it was great," tweeted Adam about the change. "I just preferred reporting."
 In her weekly podcast, EWA's Emily Richmond interviews Mother Jones' Kristina Rizga about her recent reporting on Summit Public Schools.
 Education reformer and media critic Peter Cook has a new project going, called Retort, where he says he'll be "serving up brief reactions, additions, refutations, corrections, etc., on education reform-related news.
 Recently interviewed on Vice, Nikole Hannah-Jones continues to have a better life than pretty much anyone else these days.
THE KICKER
According to the New York Times, elementary school teachers have parents who were also teachers at a rate three times the rest of the population — about average. But reporters have reporter parents at a rate 94 times the rest of the population. That explains a lot, doesn't it?
That's all, folks. Have a great weekend. You can read all the back issues of The Grade's newsletter, Best of the Week, here. Don't forget to sign up while you're there.