BEST OF THE WEEK
The best piece of the week has to be Emily Badger's NYT piece, How Effective Is Your School District? A New Measure Shows Where Students Learn the Most (above).
Using data from Stanford, the piece shows how different districts can produce different amounts of academic growth – even if they have similar demographics. There are lots of surprises (scandal-ridden Chicago schools do best). "Some urban and Southern districts are doing better than data typically suggests. Some wealthy ones don't look that effective. But that's not all. "This picture, and Chicago's place in it, defy how we typically think about wealth and education in America," notes Badger.
The piece is also visually appealing and interactive. You can check out individual districts, and there are even GIFs to help illustrate the growth that some districts seem to have produced: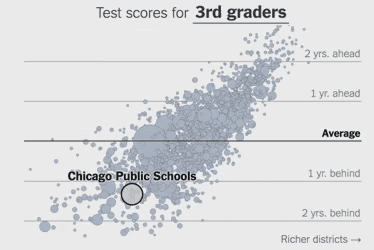 But that's not all:
There's also been some really strong and steady journalism explaining the implications of the tax bill that passed the Senate last week. These include an explainer from Chalkbeat, a county-by-county map showing state and local tax deductions via Politics K-12, a strong take from the NYT's Erica Green, and another good piece on the education implications from NPR. Politico unearthed some glitches that could affect higher education. Snopes warns against describing the tax bills as "defunding" public schools, despite the proposed elimination of the state and local tax deduction.
A JOURNALISM PROGRAM BASED ON TEACH FOR AMERICA 
The latest column from The Grade describes how a Teach For America-inspired journalism fellowship program aims to bolster local news coverage in under-served communities — without replacing veteran journalists or contributing to the lack of newsroom diversity. Meantime, ProPublica's more investigative-oriented fellowship has just announced its first seven participants.
MEDIA TIDBITS
AP SEGREGATION CONTROVERSY
The AP's story about charter schools and school segregation has generated howls of outrage from charter advocates and polite complaints from a few journalists. My only real contribution is to wonder whether the AP story might be an example of racial and cultural blind spots in mainstream journalism. The piece not only claims that integration is the sole research-proven way to address education inequality but also presumes that integration is a priority for all groups of parents.
FROM CHALKBEAT, A SURPRISINGLY POOR ATTEMPT AT NATIONAL COVERAGE
In Chalkbeat, Matt Barnum penned a problematic overview of "a loosely connected network of nonprofit groups… working to reshape the way their school districts function." Perhaps the most obvious of several problems is Barnum's top section claim that the portfolio approach is spreading nationally when the second half of the piece is full of problems and setbacks. Another obvious flaw is that the piece gives readers no real historical or financial context in which to understand the network whose work he describes. Chalkbeat is still new at national education news, so I'm hoping this is just an early stumble.
PROFILING MOSKOWITZ
Elizabeth Green's profile of Eva Moscowitz in The Atlantic is one of the most-discussed pieces of the week. In it, she explores the growth of Success Academy, its advantages over traditional bureaucratic school systems, and the worries that are created when a school network's main form of oversight is parent decisions. Notes Green, "the charter-takeover model is the most effective solution to our public school woes that we've found. It's also the least democratic." See also Rebecca Mead's New Yorker profile of Moskowitz.
MISSING DATA IN PROPUBLICA STORY
A new piece from ProPublica links involuntary placements in alternative programs to the Trump administration and the idea of school choice, but this practice predates the current administration by decades and the piece doesn't say whether it's on the rise or falling.
THE KICKER
Start here for the lovely, strange, fun story about the amazing classroom exploits of a tween (above) who goes by Max — told by author B.N Harrison in the form of a Twitter thread. Via Elizabeth Green.
That's all, folks. Have a great weekend.
You can read all the back issues of The Grade's newsletter, Best of the Week, here. Don't forget to sign up while you're there.