BEST OF THE WEEK
What makes education reporting so compelling is that schools are such central, human kinds of places. All sorts of lives cross paths, and all sorts of societal issues emerge.
That's what makes Michael Wilson's New York Times story about a high school teacher who's also a drug addict so powerful to read. The story – about a veteran teacher who overdoses in the faculty restroom of his special education high school – has been described as haunting and beautiful. The opening – "the needle was so small beside the big man" – lets you know you're in for something deep.
Wilson's story also serves as a good reminder that the opioid crisis is increasingly affecting schools. Contributor Joyce Tsai wrote last September about all the ways the drug crisis is crossing paths with schools and encouraged more reporters to cover the issues.
MISLEADING SCHOOL GUN COVERAGE
 There are some big problems with how some news outlets including the New York Times have covered gun incidents at schools over the past couple of weeks, largely created because they're 
using an overly broad definition
 of a "school shooting."
However, not all that's been written recently has gone overboard. USA Today's Greg Toppo avoided exaggerating school shootings in his overview. The Takeaway's segment with guest Julie Webber did a good job unpacking myths and misperceptions about the catch-all "school shootings" category. According to my interview with EWA's Emily Richmond, reporters have been doing a better job of not glorifying the shooter lately. And in February, The 74 will start tracking data on school gun incidents that result in injury or fatality.
Alas, the NYT doesn't seem to have learned its lesson, misleadingly describing this week's accidental discharge of a gun at a Los Angeles middle school as "one of at least a dozen" school shootings on campus this year. No, that's not really true. Please stop saying it.
MEDIA TIDBITS
  News outlets like WAMU, NPR, and the Washington Post are doing a great job covering the revelations about truancy, attendance, and inflated graduation numbers in DC public schools, but at some point we're also going to have to reflect on what role the media could or should have played in exposing these problems earlier. Look forward to a column about this in the near future.
  Ever wondered whether to call something "racist" in your reporting? The CJR's Alex Neason points us to a great thread on the nuance in making the choice. In it, Code Switch's Gene Demby talks about how the term can seem vague and insufficient because so much of American society is racist.
  Hearing NPR's Anya Kamenetz talk about her book (about screen time) on the air recently, I wondered what had happened to that NPR policy of not allowing staffers to promote their own books on the air, which had been an issue in the past. According to Elizabeth Jensen, public editor at the station, there's "no blanket ban." The policy and process that's supposed to take place are described here.
  Politico NY's Eliza Shapiro, whose work I generally admire, promises more details on charter advocate Jeremiah Kittredge's firing in her story, but actually, there's almost no more information about what got Kittredge fired or what the advocacy group he led will do next. Instead, there are folks taking thinly-veiled anonymous shots. Tell us more — names, details — or leave it out, IMO.
  There haven't yet been any public allegations of sexual harassment in education outlets or among education journalists, but the issue continues to be a hot topic among journalists writ large. This CJR piece describes "the aching banality of harassment in journalism."
  Sharing education stories from the recently shuttered site the Awl — Lessons From a School Shooting, The NYC Public High School with Nine Black Students, and Maybe Teachers Aren't To Blame For Every Terrible Thing — was always a pleasure. Occasionally, the site also covered issues relevant to education journalism, including a story about the backlash against the popular "Serial" podcast that led me to ponder why This American Life's much-admired "Harper High" series didn't get nearly as much criticism.
  In last week's column, I examined the pros and cons of the Spencer Education Journalism Fellowship and found it wanting. One useful perspective that came in too late for the column comes from EdWeek's Christina Samuels, who was a 2009-2010 fellow in the Knight-Wallace program, another yearlong fellowship. "I'm not sure that I can say that my participation in the fellowship had any direct spillover effects into Education Week, other than the spillover effect of having a happier employee," said Samuels about her experience. "I think it's fair for media outlets to ask, 'What are we going to get out of having our employee participate in this?'"
  EWA announced that the theme of its 2018 national conference in Los Angeles this spring will be "Room for All? Diversity in Education & the Media," which a press release described as an opportunity to address "the impact of today's fast-changing demographic and cultural dynamics — from the classroom to the newsroom and beyond."
PEOPLE, JOBS, AWARDS, ETC.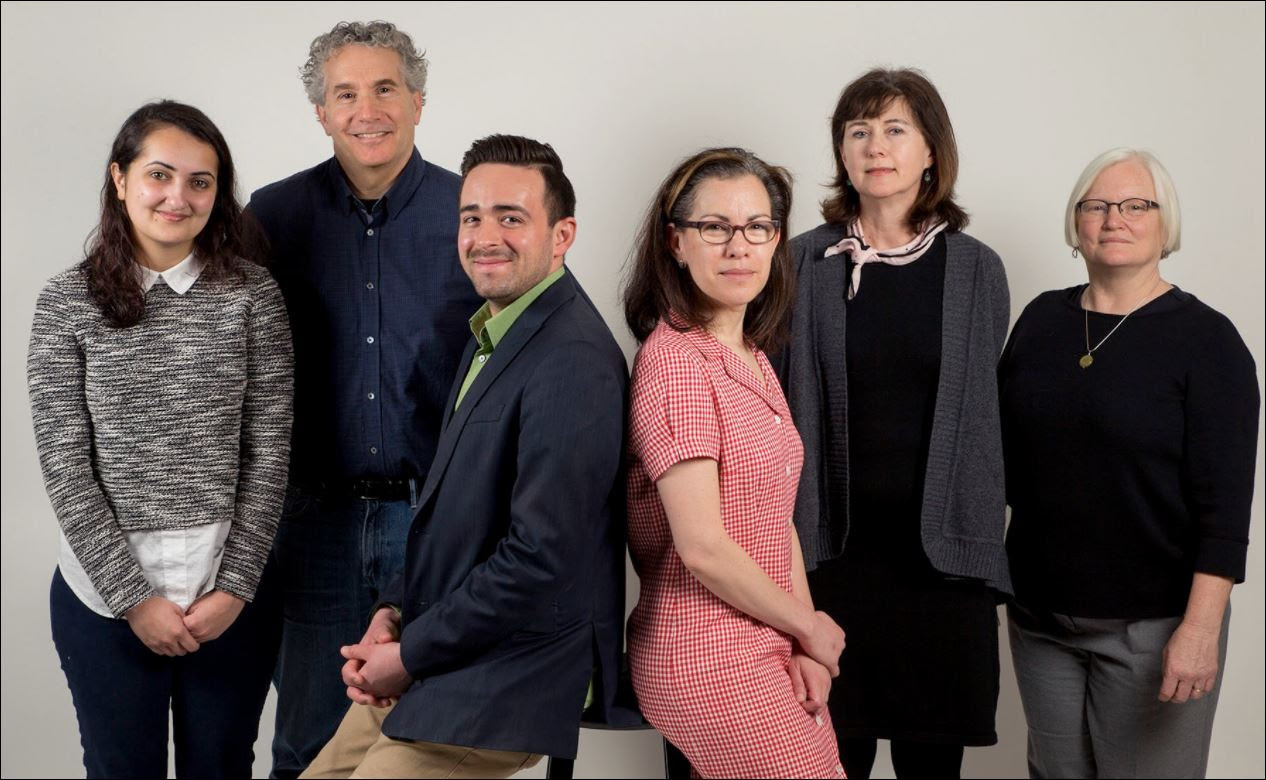 Group portrait of the Seattle Times education team posted by Neal Morton the other day, in honor of editor Linda Shaw's departure. 
 The latest batch of Goldsmith Awards finalists was named this week, without an education story among them. The Tampa Bay Times' "Failure Factories" series was a Goldsmith Awards finalist two years ago, co-written by Cara Fitzpatrick. Reporters including Heather Vogell were Goldsmith Prize finalists in 2013 for their Atlanta test cheating scandal coverage.
 San Jose Mercury News education reporter Sharon Noguchi is said to be one of the 28 BANG reporters who took buyouts this week, leaving the Bay Area with just one fulltime K-12 education reporter between the region's two largest news outlets. Read all about dwindling Bay Area education coverage here.
 Linda Shaw's Seattle Times education editor spot isn't the only job opening in education news that hasn't been filled yet. There's still an education reporter spot open at WBEZ Chicago public radio and at least one spot at Chalkbeat Chicago that hasn't been announced.
 The Emerson Collective's Laurene Powell Jobs is apparently talking to BuzzFeed about investing in the site, whose education coverage is provided by Molly Hensley-Clancy and (occasionally) Tyler Kingkade. The Emerson Collective already owns a majority stake in The Atlantic and has put money into Axios, ProPublica, and The Marshall Project. It also funds the XQ contest to redesign high school education and a number of other efforts.
 California Sunday Magazine was nominated for an Ellie magazine award for its themed issue, "A Teenage Life," which includes a much-discussed piece by occasional education writer Elizabeth Weil about raising a teenage daughter.
 Great to see that WBUR Boston public radio's education channel has a new leader, Kathleen McNerney. According to her LinkedIn, she started last month. The channel also has a sponsor, which may or may not be a new development.
 "Chalkbeat Newark is coming this March," according to the note at the bottom of a Patrick Wall overview posted on the site earlier this week. Tapped to head the the Newark effort, Wall is also making a call for stories you'd like Chalkbeat Newark to cover, and if you love newsletters, consider signing up for their soon-to-come Newark newsletter.
 Speaking of Chalkbeat, its Detroit team now includes bureau chief Erin Einhorn (new title), senior reporter Kimberly Hayes Taylor (new hire), and editor Julie Topping (new title).
KICKER
This Salt Lake Tribune story about high school kids investigating why a popular teacher stopped coming to school all of a sudden features 
all The Grade's favorite things
: students, teachers, and journalism.
That's all, folks. Have a great weekend. Send any comments and suggestions to thegrade2015@gmail.com.

You can read all the back issues of The Grade's newsletter, Best of the Week, here. Don't forget to sign up while you're there!